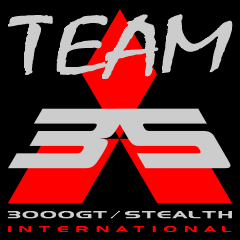 New York - Munich - Portland - San Francisco - Seattle - Stockholm - Vancouver - Zurich
Brake Upgrades

for Stealth RT/TT and 3000GT VR-4

"Solutions" by Ken Middaugh

As you may recall, some of us track and "deceleration" enthusiasts banded together in search of better, resonably priced brakes for our cars. There are already lots of kits available for our cars, but most are expensive. We wanted something that was economical, yet was a big improvement over stock brakes. Our original goal was to fund research and development of a 2 piece rotor for Brad Bedell's Porsche "Big Red" upgrade kit. With a 2 piece rotor, Brad's kit would be very similar to Mov'it's $2800 kit but we were hoping that Brad's kit with a 2 piece rotor would be about $2100. A lot of investigation was done and here is a summary.
(Note: We ended up not spending any money on R&D since our investigation uncovered existing economical solutions. It turns out that there would be little if any cost savings if Brad were to fabricate his own hats for 2 piece rotors versus just buying them from a reputable and experienced manufacturer.)

Front Kits
| | |
| --- | --- |
| | $1450 Brad's "Big Red" kit It currently sells without rotors but includes Porsche 993 calipers, caliper mounting brackets, Goodridge stainless steel brake lines for 4 wheels, a set of pads, and fluid. This is the entrypoint to serious brake upgrades and folks have reported dramatic results. With a set of $250 Porterfield rotors you can seriously upgrade stock performance for about $1700. |
| | - : - |
| | $1900 KVR "Lobster" kit (his name for the "Big Reds"), with 2-piece Porsche rotors. Terry Gosse of KVR has been doing custom brake kits for many years and has a lot of knowledge and experience. Basically, he can do anything for any budget. This price was approximate, and includes Porsche 993 calipers, mounting brackets, 2 piece rotors using Porsche GT2 322x32mm disks and custom 6061 T6 aluminum hats, stainless steel lines for the front, AP racing fluid. I don't know if this price would include SS lines for the rear, or include pads. However, this is basically the same thing as the Mov'it kit for a lot less money. Porsche makes awesome disks. They are directionally veined, the holes are cast and then drilled to final diameter. If desired, he could substitute other, larger disks for about the same price. KVR also has directionally veined disks that you can get solid, crossdrilled, or slotted. The Porsche and KVR disks have "reasonable" replacement costs, less than $200 each. The hats should last 5 racing seasons or a lifetime on the street. |
| | - : - |
| | $2100 KVR "Big Black" kit with Porsche 928 S4 calipers with 2 piece rotors. This kit is the same as the above Lobster kit except for the calipers. Terry Gosse of KVR says these calipers will be a better match for our cars, since the 928 is a similar heavy weight, front engine car like ours (TT/VR4). The Big Red calipers are for lighter, rear engine cars. The Big Black calipers have 2x38x44mm pistons while the Big Red has 2x36x44mm pistons. This extra 2mm makes a big difference over 4 total pistons. Also the Big Black calipers are bolted together closer to the centerline and will deflect less than the Big Reds. And the Blacks' shorter 50mm pads will deflect less than the Reds' 60mm pads. The Big Blacks can accomodate 332mm rotors while the Big Reds max size is 322mm. Finally, there are more pad choices for the Big Blacks versus the Big Reds. This is IMHO the best deal of the survey. |
| | - : - |
| | $2200 Stillen Brembo kit This was the price a few years ago. Some folks have this and are very happy, but others have reported that their crossdrilled disks crack and warp. The replacement disks are also costly. Supposedly, the Porsche treatment of Brembo calipers in the above kits is better than the stock Brembo caliper in this kit. The calipers do compare to the 928 though, since the pistons are also 2x38x44mm. |
| | - : - |
| | $2100 - $2800 Mov'it Big Red kit The Ultimate Garage's web site say they utilize the Porsche 996 monobloc calipers (instead of the 993) and the GT2 2 piece rotors. These 996 calipers would make it better than the above Lobster kit. Supposedly, our European friends can get these directly from Mov'it for about $2100 although Ultimate Garage's price is $2800. I think Roger Gerl was investigating becoming a Swiss distributor. |
| | - : - |
| | $2500 - $3000 KVR AP Racing 6 piston caliper and 2 piece rotors. Terry said he could sell this kit for $2500 for a group purchase of 5 or more. $3000 is the normal price. I'm not sure if this is the identical kit to the one on Stillen's webpage. This is the entry to the "very serious" upgrades and is really a step above the previous kits. It can accomodate 355x35.5mm rotors! |
| | - : - |
| | $3000+ There are other kits available but not investigated, because of their prices. Mov'it's "Terminator" kits (14.9" disks!!), Baer, and Wilwood, come to mind. Probably the awesome looking NewTech fits this category too. |

Rear Kits
| | |
| --- | --- |
| | $1800 - $2600 Mov'it has a kit for the rear brakes too. It uses Boxter S components including a 299x24mm rotor. It should cost about $1800 in Europe but $2600 in the states. |

Summary
| | |
| --- | --- |
| | All of these kits, including the Mov'it kits, should fit '91+ 3000GTs and Stealths, as long as you have the wheel clearence. To improve clearance and increase front track width (which reduces understeer), you could utilize a thicker facing on the hat, with longer wheel studs. Since Mov'it is now using 996 calipers, it would be worthwhile to compare them with the 928 S4 caliper. Regardless, Terry Gosse of KVR should be able to build custom front kits with any caliper and any disk and still have unbeatable prices. |
Happy Braking!

--- Ken Middaugh

Addendum
(Note: Some comments were made after Ken posted this article to the Team3S list. Here are a few additional thoughts; "RM" is Rich Merritt and &quotKM" is Ken.)
RM:

1. It's tough to beat Brad's Big Red kit.



KM:

Agreed.



RM:

2. The Porterfield cryogenically treated rotors seem to be the best buy for the buck.



KM:

For 1 piece steel rotors, I agree. However, #1 and #2 will cost $1700. For a few hundred more (~$1900 or so) you can get the KVR Lobster kit that has the same calipers and a 2 piece rotor using the Porsche GT2 disk.



RM:

3. The next upward step MIGHT be to buy a two-piece Porsche rotor.



KM:

A 2 piece rotor would definitely be the next upgrade. Here are some of the advantages of 2 piece rotors:

1) They are lighter. Not only do they reduce the weight of the vehicle, they reduce the important un-sprung weight (lighter wheels do this too).
2) Higher performance. There is no doubt that cross drilled and/or slotted rotors provide better braking. If the Porsche rotor resists or eliminates the usual tendency for cross drilled rotors to crack, this would be a great advantage.
3) Better cooling. The Porsche and KVR rotors (and Supra too) have directional cooling veins. This will increase the longevity of the disks.
4) It is possible to manufacture the hats with thicker facings. This essentially provides an integral spacer to increase the front track and/or provide more wheel-to-caliper clearance. Longer wheel studs are required.

Some advantages of the Porsche disks are:
1) Holes are cast and drilled out to final diameter. This means they will have less of a tendency to crack than other cross drilled rotors.
2) They have directional veins. This will improve cooling and prolong the life and performance of the rotor.

Also available would be KVR's directionally veined solid, cross drilled, or slotted rotors, probably available in more sizes too such as 332x32mm. That adds up to *many* advantages for only a few hundred dollars more!



RM:

Does anyone know if the Porsche rotor will fit the Brad's conversion, or do we need a new mounting bracket?



KM:

Most likely, unless your current rotor is 322mm in diameter. Folks ordering 2 piece rotors should also order caliper mounting brackets. Unfortunately, this becomes an expensive upgrade in the two-step approach, likely around $850.




Recommended Brake Products
(Note: Team3S member Geoff Mohler's "SpeedToys" is the recommended "Good Guys" vendor for brake pads, rotors, high-temp Motul brake fluid, and a number of other other related products for Stealth and 3000GT. Geoff hosts the Team3S websites as well as both our Team3S list and our Team3S Racers list. Below are the current discounted prices for the brake products that most of us use. Any profit that Geoff realizes helps to support THIS website as the *only* totally free, and ad-free 3S website. We encourage all members to help support Team3S by purchasing replacement brake parts from Geoff.)
Porterfield Brake Products by SPEEDTOYS
To order contact: orders@speedtoys.com
Product
Part number
Price ($US)
Stealth & 3000GT (NON-turbo, all years)
Front Rotors
JBR 583
$79.95
Rear Rotors
JBR 584
$80.00
Front Pads
R4S AP 530
$83.00
Rear Pads
R4S AP 383
$63.00
Stealth RT/TT & 3000GT VR-4 (1st Gen, 4/90 to 5/93 production)
Front Rotors
JBR 582
$82.00
Rear Rotors
JBR 585
$90.00
Front Pads
R4S AP 531
$69.00
Rear Pads
R4S AP 532
$56.00
Stealth RT/TT & 3000GT VR-4 (2nd Gen, 6/93+ production)
Front Rotors
JBR 785
$104.50
Rear Rotors
JBR 786
$99.00
Front Pads
R4S AP 531
$69.00
Front Pads
R4 AP 531 or R4E AP 531
$116.00
Rear Pads
R4S AP 631
$76.00
Rear Pads
R4 AP 631 or R4E AP 631
$95.00
Porsche Big Red Calipers
Front Pads
R4S AP 594
$128.00
Front Pads
R4 AP 594 or R4E AP 594
$137.00

Rotor prices are *per* rotor. Rotors are made by Autospecialty.
Add $45 per rotor for *each* process: Slotting - Drilling - Cryo-Treating

Pad prices are for both left and right wheels.
All pads are a Carbon Kevlar blend made by AP Racing.


R4: Race
Versatile and a superior performer. Some dusting.
Slight squeal at cooler street temperatures.

R4-S: Street High-performance & Limited Competition
The high performance street pad of choice. No dust or squeal.
Very high friction level even at cold temperatures.

R4-E: Endurance Racing Pads with Longer Life
This is an endurance pad, especially formulated for long races.
It runs cool and wears longer than the R-4. Great for extended time events.

Questions about your car???
Ask the other owners--
On our FREE mailing list!
Click HERE