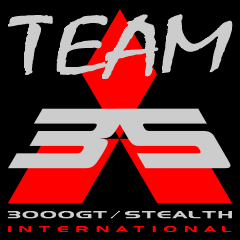 New York - Munich - Portland - San Francisco - Seattle - Stockholm - Vancouver - Zurich
Fastest "3S" - 1/4 Mile Times
Stealth RT/TT & 3000GT VR-4 (Turbo Models)

Stealth RT & 3000GT SL (Naturally Aspirated Models)


( For the Fastest 1/8 Mile Track Times, )
(go to the end of this page)

Stealth RT/TT & 3000GT VR-4
Twin-Turbo AWD Models
| | | | | | | | | | | |
| --- | --- | --- | --- | --- | --- | --- | --- | --- | --- | --- |
| No. | Name | Car | | 60' | 1/8 ET | 1/8 mph | 1/4 ET | 1/4 mph | Date | Track, State |
| 01 | Jack Tertadian | 93 VR-4 | | 1.551 | 6.941 | 101.43 | 10.810ñ | 128.44 | 06/03/97 | Great Lakes, WI |
| 02 | Matt Monett | 95 RT/TT | | 1.697 | 7.061 | 102.74 | 10.889ñ | 129.20 | 12/09/01 | Roswell Dragway, NM (3600ft) |
| 03 | Matt Monett | 95 RT/TT | | 1.677 | 7.107 | 101.23 | 10.956 | 129.97 | 12/09/01 | Roswell Dragway, NM (3600ft) |
| 04 | Mikael Kenson | 93 VR-4 | | ? | ? | ? | 11.120ñ | 131.00 | 09/15/02 | Tulinge Raceway, SE |
| 05 | Jack Tertadian | 94 VR-4 | | 1.819 | 7.331 | 105.53 | 11.219 | 124.63 | 06/21/00 | Great Lakes Dragaway, WI |
| 06 | Adam Weltz | 96 VR-4 | | 1.712 | ? | ? | 11.250 | 125.43 | 10/03/98 | Capitol Raceway, MD |
| 07 | Jack Tertadian | 93 VR-4 | | 1.704 | 7.309 | 97.49 | 11.303 | 122.54 | 05/16/97 | Norwalk Raceway Pk, OH |
| 08 | Brad Bedell | 92 VR-4 | | 1.729 | 7.370 | 100.24 | 11.390 | 120.64 | 08/14/99 | Temple, TX |
| 09 | Arthur Shevack | 91 VR-4 | | 1.704 | 7.423 | 95.84 | 11.418 | 124.32 | 10/17/98 | Atco Raceway, NJ |
| 10 | Bob Fontana | 93 VR-4 | | 1.690 | 7.427 | 93.71 | 11.470 | 120.83 | 01/10/98 | DeSota Speedway, FL |
| 11 | Mike Mahaffey | 94 RT/TT | | 1.824 | 7.513 | 97.86 | 11.490 | 122.02 | 01/17/99 | Atco Raceway, NJ |
| 12 | Matt Meyer | 92 VR-4 | | 1.820 | 7.592 | 95.04 | 11.640 | 118.59 | 11/08/98 | Atco Raceway, NJ |
| 13 | Jose Soriano | 91 RT/TT | | 1.800 | 7.576 | 94.67 | 11.720 | 118.66 | 10/22/97 | Great Lakes Dragaway, WI |
| 14 | Matt Monett | 93 RT/TT | | 1.628 | 7.502 | ? | 11.742 | 120.13 | 04/09/99 | Roswell Dragway, NM (3600ft) |
| 15 | Brian Bochenek | 93 VR-4 | | 1.800 | 7.652 | 93.10 | 11.808 | 119.03 | 10/27/00 | Lebanon Valley, NY |
| 16 | Trevor James | 96 RT/TT | | 1.705 | ? | ? | 11.818 | 116.06 | 07/01/01 | Wichita Speedway, KS |
| 17 | Anders Lundback | 99 VR-4 | | 1.918 | 7.724 | 95.51 | 11.876 | 122.50 | 08/30/03 | Lunda Raceway, SE |
| 18 | Keith Andreson | 95 RT/TT | | 1.800 | 7.735 | 91.85 | 11.990 | 114.50 | 10/22/97 | Great Lakes Dragaway, WI |
| 19 | Oleg Reznik | 94 VR-4 | | 1.876 | 7.886 | ? | 12.164 | 119.67 | 08/04/01 | Tartu, Estonia |
| 20 | Bob Witmer | 93 RT/TT | | 1.635 | 7.936 | 91.10 | 12.182 | 117.05 | 10/27/01 | Lapeer Int'l Dragway, MI |
| 21 | Mark Wendlandt | 91 RT/TT | | 1.804 | 7.887 | 88.42 | 12.190 | 115.13 | 06/13/02 | Rock Falls Raceway, WI |
| 22 | Travis O'Keefe | 91 RT/TT | | 1.760 | 7.907 | 89.06 | 12.211 | 114.95 | 06/01/02 | Portland Int'l Raceway, OR |
| 23 | Francis Morice | 96 RT/TT | | 1.842 | 7.928 | ? | 12.225 | 114.19 | 04/13/03 | Rock Falls Raceway, WI |
| 24 | Joe Gonsowski | 92 RT/TT | | 1.770 | 7.932 | 92.17 | 12.236 | 113.31 | 10/30/99 | Lapeer Int'l Dragway, MI |
| 25 | Ryan Smith | 95 VR-4 | | 1.800 | 7.920 | 89.67 | 12.258 | 113.47 | 10/01/03 | Bandimere Speedway, CO |
| 26 | Tom Terflinger | 92 VR-4 | | 1.765 | 7.994 | 87.58 | 12.286ñ | 114.17 | 10/05/02 | National Trail Raceway, OH |
| 27 | Jeffrey Moomjian | 91 RT/TT | | 1.807 | 7.886 | 88.99 | 12.303 | 110.90 | 10/01/99 | New England Dragway, MA |
| 28 | Miguel Paulino | 93 VR-4 | | 1.776 | 7.953 | 87.90 | 12.356 | 110.07 | 02/19/04 | Coors Light Raceway, P. R. |
| 29 | John Adams (2) | 94 RT/TT | | 1.735 | 7.883 | 87.05 | 12.367 | 109.11 | 04/27/03 | Silver Dollar Raceway, GA |
| 30 | John T. Christian | 93 RT/TT | | 1.761 | 7.974 | 86.42 | 12.462 | 109.35 | 05/16/97 | Norwalk Raceway Pk, OH |
| 31 | Matt Jannusch | 95 VR-4-S | | 1.828 | 8.058 | 89.01 | 12.471 | 116.14 | 09/21/02 | Rock Falls Raceway, WI |
| 32 | Joe Kaczmarski | 92 VR-4 | | 1.737 | ? | ? | 12.474 | 110.56 | 10/25/98 | Leicester, NY |
| 33 | Brian Geisel | 94 VR-4 | | 1.859 | 8.052 | 86.78 | 12.527 | 109.90 | 10/17/03 | New England Dragway, NH |
| 34 | Rich Fowler | 92 RT/TT | | 1.870 | 8.048 | 87.28 | 12.515 | 112.37 | 07/14/01 | Carlsbad Drags, CA |
| 35 | Jeff Williamson | 92 VR-4 | | 1.873 | 8.332 | 90.27 | 12.618 | 116.54 | 10/27/01 | Lapeer Int'l Dragway, MI |
| 36 | Ali Mahmood | 92 RT/TT | | 1.900 | 8.161 | 88.805 | 12.676 | 108.97 | 05/26/00 | Tulsa, OK |
| 37 | Oskar Persson | 95 RT/TT | | 1.771 | 8.130 | ? | 12.677 | 107.23 | 07/9/99 | Norwalk Raceway Pk, OH |
| 38 | Dusty Lane | 97 VR-4 | | 1.792 | 8.137 | 85.27 | 12.701 | 107.60 | 07/10/02 | Great Lakes Dragaway, WI |
| 39 | Trent Karr | 93 RT/TT | | 1.798 | 8.131 | 84.62 | 12.704 | 107.72 | 07/19/01 | Norwalk Raceway Pk, OH |
| 40 | Anissa Erbes | 92 RT/TT | | 1.807 | 8.112 | 85.06 | 12.722 | 106.28 | 12/13/97 | Houston Raceway, TX |
| 41 | Matthew Duco | 92 RT/TT | | 2.483 | 8.591 | 88.83 | 12.766 | 119.75 | 07/19/01 | Norwalk Raceway Pk, OH |
| 42 | Joel Kalishman | 93 VR-4 | | 1.830 | 8.193 | 84.28 | 12.768 | 106.08 | 10/29/97 | Brooklyn, NY |
| 43 | Curt Gendron | 95 RT/TT | | 1.922 | 8.287 | ? | 12.834 | 107.70 | 05/13/00 | Rock Falls Raceway, WI |
| 44 | William Boschert Jr. | 92 VR-4 | | 1.872 | 8.215 | 82.33 | 12.839 | 105.01 | 04/19/03 | Mason Dixon Dragway, MD |
| 45 | John Basol | 95 RT/TT | | 1.877 | 8.287 | ? | 12.855 | 107.33 | 10/24/99 | Rock Falls Raceway, WI |
| 46 | Jeffrey Curtis | 95 RT/TT | | 1.877 | 8.293 | 84.44 | 12.857 | 108.09 | 10/14/97 | Great Lakes Dragaway, WI |
| 47 | Greg Campbell | 95 RT/TT | | 1.789 | 8.348 | 86.33 | 12.867 | 109.72 | ? | ? |
| 48 | Jeremy Gleason | 95 RT/TT | | 1.839 | 8.250 | 82.87 | 12.891 | 105.14 | 08/10/02 | Osceola Dragway, IN |
| 49 | Jon Beard | 95 VR-4 | | 1.789 | 8.389 | 84.30 | 12.899 | 105.17 | 04/26/02 | Texas Motorplex, TX |
| 50 | Mark Winemiller | 93 RT/TT | | 1.916 | 8.327 | 82.59 | 12.908 | 108.60 | 07/19/01 | Norwalk Raceway Pk, OH |
| 51 | John Raicu | 94 RT/TT | | 1.978 | 8.478 | 88.53 | 12.909 | 110.97 | 10/27/01 | Lapeer Int'l Dragway, MI |
| 52 | Michael Bulaon | 95 VR-4 | | 1.907 | 8.389 | 82.88 | 12.910 | 110.32 | 08/25/01 | Englishtown, NJ |
| 53 | Donald Summerton | 97 VR-4 | | 1.947 | 8.354 | 85.28 | 12.926 | 107.39 | 05/21/99 | Norwalk Raceway Pk, OH |
| 54 | Anthony Ng | 97 VR-4 | | 1.833 | 8.290 | 83.74 | 12.931 | 106.93 | 07/23/00 | Norwalk Raceway Pk, OH |
| 55 | Nick Yonan | 93 VR-4 | | 1.922 | 8.323 | ? | 12.931 | 106.14 | 08/08/01 | Sacramento Raceway, CA |
| 56 | Rich Halvorsen | 93 RT/TT | | 1.879 | 8.258 | 83.83 | 12.932 | 105.25 | 10/13/02 | Rock Falls Raceway, WI |
| 57 | Errin Humphrey | 94 VR-4 | | 2.006 | 8.343 | 85.082 | 12.948 | 107.57 | 07/07/98 | Seattle Int'l Raceway, WA |
| 58 | Bruce Body | 95 VR-4 | | 1.900 | 8.358 | 84.50 | 12.979 | 107.39 | 05/06/00 | Carlsbad Drags, CA |
| 59 | Jeff Wong | 96 VR-4-S | | 1.812 | 8.349 | 83.50 | 13.023 | 105.07 | 07/19/01 | Norwalk Raceway Pk, OH |
| 60 | Mike Ma | 93 VR-4 | | 1.787 | 8.309 | ? | 13.048 | 102.36 | 05/29/98 | Frederick, MD |
| 61 | Jag Hundal | 92 RT/TT | | 1.804 | 8.336 | 81.88 | 13.060 | 104.44 | 09/15/01 | Mission Raceway, BC, CAN |
| 62 | Travis Bayne | 94 VR-4 | | 1.775 | 8.332 | 82.10 | 13.071 | 104.85 | 09/09/01 | Silver Dollar Raceway, GA |
| 63 | Dave Black | 95 VR-4 | | 1.876 | 8.421 | 83.20 | 13.079 | 105.86 | 05/24/02 | Great Lakes Dragaway, WI |
| 64 | Joe Gonsowski | 96 RT/TT | | 1.772 | 8.438 | 84.52 | 13.087 | 105.90 | 10/27/01 | Lapeer Int'l Dragway, MI |
| 65 | Matt Thomason | 92 RT/TT | | 1.802 | 8.364 | ? | 13.122 | 102.52 | 09/12/99 | Forest Hill, MD |
| 66 | Parham Sabetazm | 92 VR-4 | | 1.796 | 8.385 | 81.37 | 13.125 | 104.90 | 10/31/98 | Atlanta, GA |
| 67 | Rich Pacetti | 95 VR-4 | | 1.909 | 8.463 | 81.50 | 13.131 | 105.71 | 03/24/00 | Rockingham Dragway, NC |
| 68 | Enrique Castelazo | 97 VR-4 | | 1.909 | 8.455 | 82.39 | 13.140 | 105.06 | 01/17/03 | Orlando Speedworld, FL |
| 69 | Tim Yerkes | 91 VR-4 | | 1.757 | 8.586 | 82.41 | 13.225 | 106.88 | 06/20/01 | Edgewater Park, OH |
| 70 | Jon Springer | 91 VR-4 | | 1.775 | 8.511 | 80.23 | 13.330 | 103.10 | 01/18/02 | Orlando Speedworld, FL |
| 71 | Glenn Cope | 92 VR-4 | | 1.973 | 8.687 | 82.78 | 13.334 | 107.41 | 05/24/02 | Thunder Valley Raceway, OK |
| 72 | Brian Fontana | 91 RT/TT | | ? | ? | ? | 13.346 | 107.58 | 07/19/01 | Norwalk Raceway Pk, OH |
| 73 | Ara Guzelian | 91 VR-4 | | 1.864 | 8.493 | 86.14 | 13.349 | 101.56 | 10/20/99 | Palmdale, CA |
| 74 | John Monnin | 91 VR-4 | | 1.932 | 8.568 | 79.37 | 13.381 | 99.56 | 08/10/02 | Osceola Dragway, IN |
| 75 | Bradford J Gay | 97 VR-4 | | 1.969 | 8.669 | 82.85 | 13.431 | 104.09 | 09/13/02 | Renegade Raceway, WA |
| 76 | John Adams (1) | 91 VR-4 | | 1.888 | 8.721 | 82.29 | 13.499 | 103.93 | 10/16/99 | Lapeer Int'l Dragway, MI |
| 77 | Peter Yaghi | 96 VR-4 | | 1.976 | 8.704 | 79.80 | 13.559 | 102.55 | 02/12/01 | Rockingham Dragway, NC |
| 78 | Rick Wooten | 93 RT/TT | | 1.760 | 8.717 | 80.42 | 13.589 | 101.82 | 10/27/01 | Lapeer Int'l Dragway, MI |
| 79 | Christy Hopson | 94 RT/TT | | 2.086 | 8.907 | 79.55 | 13.774 | 102.04 | 02/12/01 | Rockingham Dragway, NC |
| 80 | Shane Murray | 92 GTO | | 1.902 | 8.854 | 76.82 | 13.837 | 100.22 | 05/15/2002 | Willowbank, Brisbane, AUS |
| 81 | Edward Fein | 94 VR-4 | | 1.841 | 8.817 | 76.57 | 13.895 | 95.54 | ? | ? |
| 82 | Matthew Brannon | 92 VR-4 | | 1.983 | 8.954 | 77.12 | 13.916 | 100.77 | ? | ? |
| 83 | Matt Roth | 92 VR-4 | | 2.033 | 9.018 | 76.21 | 14.068 | 99.77 | 04/04/03 | Southwestern Int'l Raceway, AZ |
| 84 | Tony Ashcraft | 91 VR-4 | | 2.084 | 9.131 | 76.89 | 14.366 | 94.25 | 06/30/99 | Houston Raceway, TX |
ñ = Run made with nitrous VR-4-S = Spyder

Stealth R/T & 3000GT SL
Naturally Aspirated FWD Models
| | | | | | | | | | | |
| --- | --- | --- | --- | --- | --- | --- | --- | --- | --- | --- |
| No. | Name | Car | | 60' | 1/8 ET | 1/8 mph | 1/4 ET | 1/4 mph | Date | Track, State |
| 01 | Huey Martin | 94 GT | | 2.322 | 8.999 | 82.68 | 13.712ñ | 106.76 | 08/05/01 | Moroso Motorsports Pk, FL |
| 02 | Justin Garrett | 92 GT @ | | 2.250 | 9.123 | 81.02 | 14.107ñ | 96.33 | 04/27/02 | Firebird Raceway, ID |
| 03 | Shawn O'Conner | 95 GT | | 2.429 | 9.333 | 80.44 | 14.133ñ | 103.41 | 02/12/01 | Rockingham Dragway, NC |
| 04 | Jorge Llaguno | 97 GT | | 2.138 | 9.220 | 77.06 | 14.337ñ | 92.98 | 04/23/99 | Palm Beach, FL |
| 05 | Drew Henson | 94 RT | | 2.194 | 9.318 | 77.15 | 14.484 | 95.24 | 10/18/01 | Bradenton Park, FL |
| 06 | Hans Ertl | 91 GT | | 2.245 | 9.523 | 76.21 | 14.706ñ | 91.48 | 02/05/00 | Atco, NJ |
| 07 | Jamie Lampe | 94 RT | | 2.246 | 9.561 | 75.93 | 14.768 | 94.88 | 10/18/01 | Bradenton Park, FL |
| 08 | Kurt Zobel | 96 GT | | 2.308 | 9.625 | 72.94 | 14.908 | 93.26 | 03/27/99 | Pomona Raceway, CA |
| 09 | Joe Rouse | 94 RT | | 2.285 | 9.639 | 73.49 | 14.930 | 93.05 | 09/28/01 | Great Lakes Dragaway, WI |
| 10 | Brad D'Anna | 94 GT | | 2.397 | 9.666 | 73.37 | 14.939 | 94.18 | 11/22/02 | Temple Academy, TX |
| 11 | Kash Motee | 93 GT | | 2.623 | 10.082 | 78.13 | 15.006ñ | 100.58 | 07/12/01 | Desota Speedway, FL |
| 12 | Brandon Hamchuck | 93 GT | | 2.373 | 9.789 | 73.337 | 15.088 | 92.80 | 11/23/02 | L.I. Motorsports Park, NY |
| 13 | Brad Whelchel | 92 RT | | 2.392 | 9.849 | 73.28 | 15.157 | 93.57 | 02/12/01 | Rockingham Dragway, NC |
| 14 | Kyle Meyer | 92 RT | | 2.527 | 9.899 | ? | 15.187 | 92.59 | 11/28/96 | Temple Academy, TX |
| 15 | Tim Bennett | 93 GT | | 2.305 | 9.883 | ? | 15.300 | 92.83 | 07/16/00 | Monrovia, MD |
| 16 | Xannieria | 93 GT | | 2.605 | 10.293 | 72.36 | 15.375 | 93.54 | 04/04/98 | Englishtown, NJ |
| 17 | Rich LeRoy | 94 RT | | 2.387 | 9.975 | ? | 15.416 | 91.349 | 07/24/98 | Portland Int'l Raceway, OR |
| 18 | Bob Forrest | 94 SOHC | | 2.371 | 9.978 | 69.91 | 15.527 | 91.03 | 11/05/03 | Sears Point (Infineon), CA |
| 19 | Brian Myers II | 94 SOHC | | 2.335 | 10.116 | 69.18 | 15.783 | 87.34 | 08/28/03 | Pittsburgh Raceway Pk, PA |
| 20 | Ariel Melendez | 95 GT @ | | 2.528 | 10.516 | 68.33 | 16.069 | 87.06 | 11/16/01 | Englishtown, NJ |
| 21 | Mike Maltese | 91 RT @ | | 2.468 | 10.599 | 69.15 | 16.181 | 87.93 | 04/17/98 | Pomona Raceway, CA |
| 22 | Rommel Dizon | 95 GT @ | | ? | 10.590 | ? | 16.270 | 86.12 | 07/24/98 | Portland Int'l Raceway, OR |
| 23 | Richard Forbes | 91 SOHC | | 2.529 | 10.496 | 67.39 | 16.273 | 85.28 | 07/03/02 | New England Dragway, MA |
| 24 | Max Cottrell | 93 RT | | 2.513 | 10.799 | 65.94 | 16.692 | 83.75 | 07/01/98 | Milan Dragway, MI |
ñ = Run made with nitrous @ = Automatic Transmission

1/8 Mile Track Times
| | | | | | | | | | |
| --- | --- | --- | --- | --- | --- | --- | --- | --- | --- |
| No. | Name | Car | | R/T | 60' | 1/8 ET | 1/8 mph | Date | Track, State |
| 1 | Chad Halliday | 93 VR-4 | | 1.274 | 1.714 | 8.237 | 81.93 | 08/06/02 | Gateway Motor Drags, TN |
| 2 | Sean Johnson | 91 VR-4 | | 0.048 | 1.809 | 8.470 | 81.41 | 10/27/01 | 411 Dragway, TN |
| 3 | John Adams | 94 RT/TT | | 0.531 | 1.741 | 8.479 | 80.44 | 10/27/01 | 411 Dragway, TN |



Please submit new times (or report errors)
You will be required to submit a scanned image of your
timeslip in order to be added to this database,
and a second slip from another run you made that day, to verify.

We only permit uncorrected times, as they appear on the timeslip.


Questions about your car???
Ask the other owners--
On our FREE mailing list!
Click HERE


© 1997-2004 Team3S. All rights reserved.
All Images © 1995-2004 Bob Forrest, All Rights Reserved.